PRODUCT DESCRIPTION
With our all-in-one nail extension gel kit, save your time and money for nail salon, and you can create various ornate and beautiful extension nails or other nail art design. Just bring your nail salon home.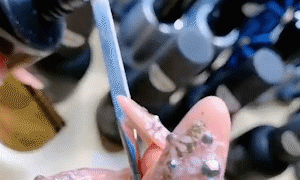 Main Features
ALL-IN-ONE NAIL GEL KIT


No more messy nail polish with our Poly Nail Gel Kit includes the tools you need. You only need to prepare an extra slip solution. Gift for mother, wife, girlfriend and nail art lovers.

FINISH NAIL ART IN MINUTES




Our nail extension gel dry very fast, the curing time for the LED lamp is only 30-60s and UV Lamp is 2 mins. It's stronger, more flexible, easier to control than other nail extensions. 

NATURAL FOR EXTENSION 


Lighter than acrylic or UV builder gel when you do the nails, it seems like you wear nothing on your nails, makes your nails look natural, with pretty length and neatness.

LONG-LASTING AND DURABLE




Our poly nail gel will last up to about one month or longer with proper nail prep (filing, buffering, and cleaning ). It does not fall off even though you wash dishes or clothes. 

DO IT YOURSELF




Bring your nail salon home, an amazingly easy product to use. It can be easily manipulated into any shape you wish and you won't be rushing against setting times or chasing runny gel around the nail.
Different Using Ways
1. Make poly nail gel with dual form.
2. Make poly nail gel with paper nail form.
3. Decorate with nail decorations.
4. Paint regular nail polish over the product.
Specifications
Colloid Content

Product Weight
Package Contents

1 × 

15ml nail extension gel

1 × Dual-ended nail file and spatula

1 × Nail Brush

1 × Box of nail extension forms
Shipping:
Free Shipping Worldwide
Please be expected 2-7 days shipping delay due to High Volume of Order



Nail Poly Extention Gel Kit